​Singers

Songwriters

Instrumentalists


​Dancers

Variety Acts

Don't Miss Out! Take the First Step for an Opportunity
to Advance & Win Cash, Prizes, Trophies & Nashville Recording Sessions!

Enter the Galaxy of Stars Preliminary Video Contest
& the Galaxy of Stars Songwriting Contest!
​

​HOW TO ENTER CONTESTS
​

Win Tickets to Brad Paisley
or Pentatonix Concerts!

ALL Galaxy of Stars Talent Search Preliminary Video Contest
Entries & Galaxy of Stars Songwriting Contest Entries
will be entered into a drawing to win concert tickets
at the Nebraska State Fair!!

​All Entries Due July 7th
​


​Open to Nebraska Residents of All Ages


​​GALAXY OF STARS TALENT SEARCH AWARDS CEREMONY
Nebraska State Fair - Grand Island, NE
Bristol Windows Stage - Sunday, September 3rd
​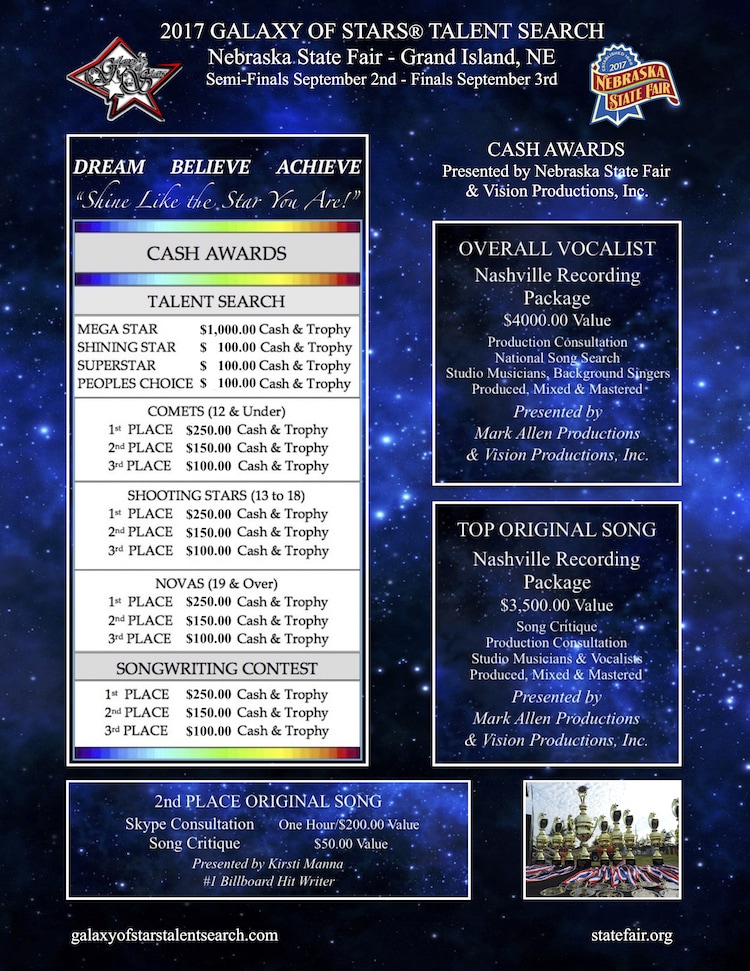 ​
​

2017 Galaxy of Stars Spectacular Shows

---


​Galaxy of Stars Talent Search
The Galaxy of Stars Talent Search provides an opportunity for talent of all ages to perform and engage with an audience. Since its beginning in the state of Nebraska in 1993, the vision of the program is to encourage, to inspire and to be a platform for talented individuals to grow in ability and skill within a friendly and caring atmosphere. To "Dream, Believe and Achieve" and to enjoy the excitement of competing and connecting with others is the spirit that can be experienced as a part of the Galaxy of Stars Family.

Through the years, many contestants have returned to compete or to entertain at the Galaxy of Stars Talent Search. Some have used it as a stepping stone to further their goals and dreams. All have been helped by such an experience by their families, friends, and new friends made, by businesses, organizations and sponsors, through the volunteer help of judges and others and a dedicated Galaxy of Stars team. It is with a deep appreciation that I thank all of you for your time, efforts and support for the program. ~ Wynne


DeAundrae Clayton
2016 Galaxy of Stars Talent Search
Mega Star Winner - Grand Island
​Special Message from DeAundrae

2016 ​Performance, Entertainer & Award Photos
by Scott & Sue Saxton, Mountain Bound Photography Services​​​
​

Like Us on Facebook
​ Keep Up With the Latest News!